Aluminum Profile Powder Coating Equipment Application
Views: 90 Author: Site Editor Publish Time: 2018-05-30 Origin: Site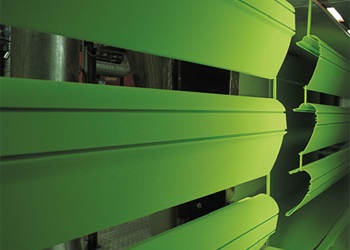 Powder Coating or Liquid Painting Aluminum Profile?
Cost-less Surface Finishing Process: Whether from coating material, labor, environmental factors or working efficiency, powder coating process is superior to liquid painting.
Powder does not generate harmful solvent or gas, it avoids the expense associated with sewage management.

Equip with powder recovery booth, the utilization of powders can be very high, it is a great saving of coating material

Easy operation and less training of powder coaters. Can set automatic production line to reduce manpower.
Powder coating offers many advantages over other finishes including;
A wide range of decorative finishes for metal can be achieves by using different types of powders including metallic, glossy, clear and textured, etc.

Powder coating can be applied to most metal materials including steel, zinc, brass and aluminium, etc.

Common industry application, such as: windows, doors, home and office furniture, vehicle parts, electronics, machinery accessories, etc.

The durable finish provides a surface finish which is less prone to chipping, marking and scratching and rusting.

Powder coating can be applied to components used internally and externally, reaching to any corners of the products.

How powder coat aluminum profile?
The choice usually comes down to using the product indoors or outdoors. Indoors is usually Epoxy/Polyester and Outdoors is usually Polyester
Aims to remove rust, contaminants, imperfections of the metal surface, improve adhesion and mechanical properties. Chemical Pretreatment: concrete/stainless steel tank with chemicals solvent.
Uses electrostatic powder coating gun to produce a negatively charged particle of powder by adding electrons to the grounded metal surface. This is the main type used in the industry of powder coating.
The powder spraying process is done at a powder coat booth, for the purpose of powder recycling
The coated aluminum profile is pushed to a curing oven, the coated film will melt to be a solid powder coating film cover the surface.
We supply aluminum profile powder coating equipment and aluminum profile powder coating line for customers, welcome contact for solution.